October 15, 2013: Dread Selected for IndieCade 2013
IndieCade 2013 is going on right now in LA, and Dread was selected as one of their featured "night games"!
---
August 23, 2012: The Impossible Dream is Now on Google+
Not sure how this slipped by me, but I totally forgot to mention that The Impossible Dream has had a Google+ page for quite a while now. I've added the link to our Links page.
To give a slight update on Four Colors al Fresco, I'm plugging away on the writing, and should have a ready-to-play teaser version up next month. I'm also getting the rest of what the game, and a Kickstarter campaign to publish it, needs to make it, I hope, worth the wait. If things go well, it will be in full color, with some tasty microfiction, enough villains to keep your heroes busy for a long time, and several alternate settings. I'm also hoping to have several extras to go with the book, but don't want to say anything more until I have some more details worked out.
---
August 12, 2012: Gen Con 2012 and My Upcoming Kickstarter
I'll be at Gen Con running a couple games of Four Colors al Fresco. But the exciting news is that you'll be able to buy Four Colors al Fresco in the not-terribly-distant future! I'll have bookmarks to hand out while I'm there, but the gist of it is that I'm aiming for sometime this winter to launch a Kickstarter campaign in order to have pretty full-color books next spring.
---
October 18, 2010: Come See Us at Winter Conventions
The Impossible Dream will be running games at Rochester Gamers Community 4th Quarter Games Day 2010 (wow, that's a mouthful) and Con of the North 2011.
---
September 28, 2010: Visit the Impossible Dream on Facebook
Don't worry–our website will continue to get attention. But the nifty tools available make it much easier to put short, timely updates there. Anything important will show up both places, so if Facebook isn't your thing, don't worry. But if you want a little more content, check it out.
---
September 1, 2010: Dread RPG Now Available as a PDF
Hopefully "better late than never" applies in these circumstances, but here it finally is. So, whether you've been patiently waiting for the PDF edition, can't afford the cost of the print book, or just want a digital copy to take to slumber parties, now it can be yours. The text has been completely reformatted for US-letter paper, for easy home printing–and the margins are such that you should be able to squeeze it onto A4, too (or just shrink-to-fit, of course). Head on over to RPGNow or DriveThruRPG and pick up a copy. Or buy copies for all your friends.
---
August 20, 2010: Update on The Impossible Dream
Despite appearances to the contrary, The Impossible Dream hasn't proved to be impossible–just a bit tricky. Various life changes and whatnot have slowed some of the production, but we've also spawned a new company, and gotten involved in some new ventures.
Most of Akira's time is now focused on Windmill Game Co., while Epidiah has been working withImagination Sweatshop and founded his own company. Nat continues to plug away, when the opportunity presents itself. Dan and Bex have moved on to more-lucrative pastures.
---
August 14, 2006: We Won an ENnie for Dread
Well, we didn't win for Best Rules or Best Game, but we were pleasantly surprised–nay, stunned–to win the Gold ENnie for Innovation! Don't get me wrong, we always knew Dread was innovative and different than just about everything out there. We just didn't expect to actually win an award for it, especially when the ENnies rely on popular vote for most of their awards.
---
July 10, 2006: Dread is an ENnie Nominee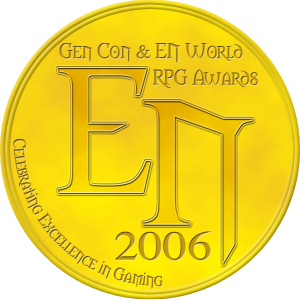 Dread has been nominated for an ENnie!
Actually, it's been nominated for two and received Honourable Mention in a third category:
Best Rules

Best Game

Best Product (Honourable Mention
---
August 10, 2005: Gen Con Update
Gen Con Indy 2005 was a huge success for us. We finally had products for sale. A big "Thank You" to Ming Ling Enterprises who agreed to resell our products.
Dread is in print, and in our sweaty little hands. To get copies into your hands, check out your FLGS — lots of them have been stocking through IPR — or order online directly from us or from IPR. While you're waiting for it to arrive, you can whet your appetite for horror by checking out the Dread Quick Reference
We also have pre-release copies of character sheets for Advanced Dimensional Green-Ninja Educational Prepatory Super-Elementary Fortress 555. Get them here! If you've played our games at cons, and want to reproduce the wackiness in your own homes, these should have all you need — character stats, quick blurbs about the school and teachers, even a pair of teeny dice. And, we'll update the characters for free once the official rules are released.